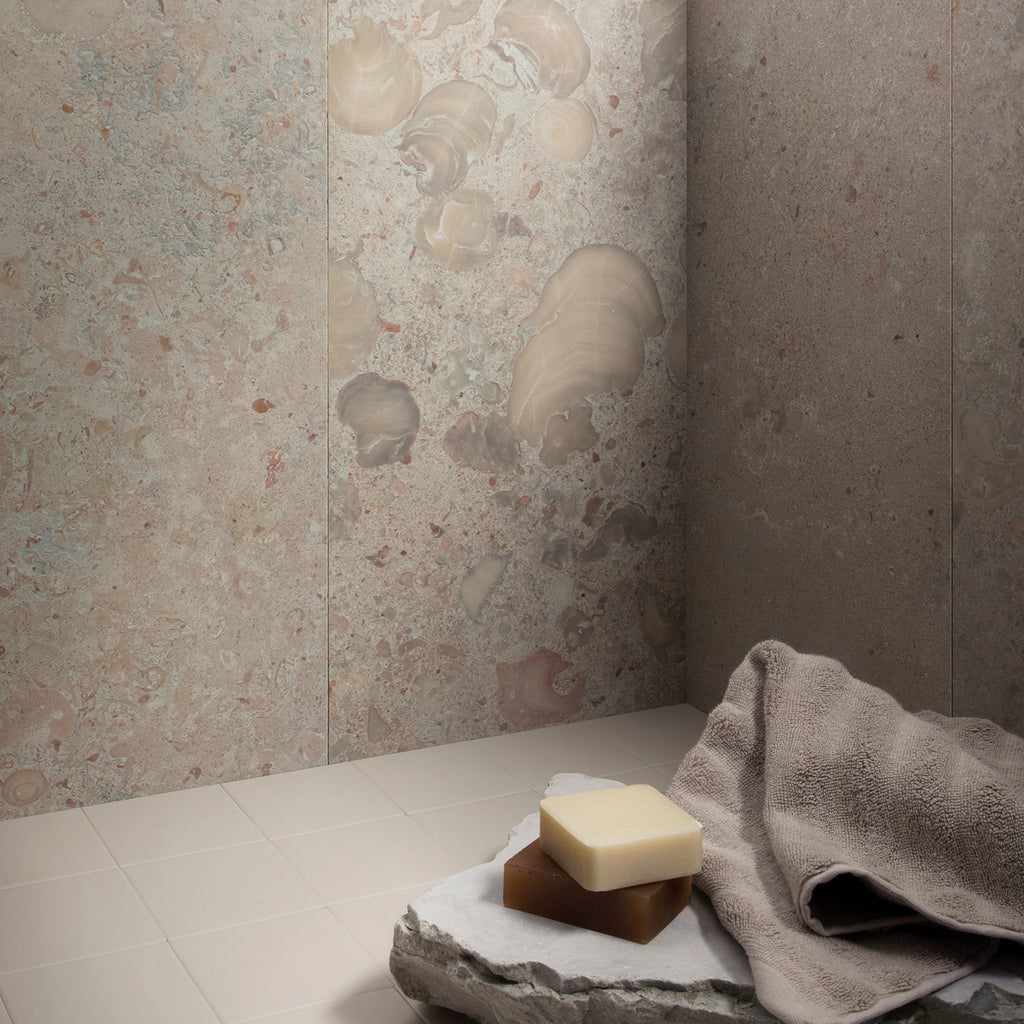 Interior
Limestone in bathroom
Publicerad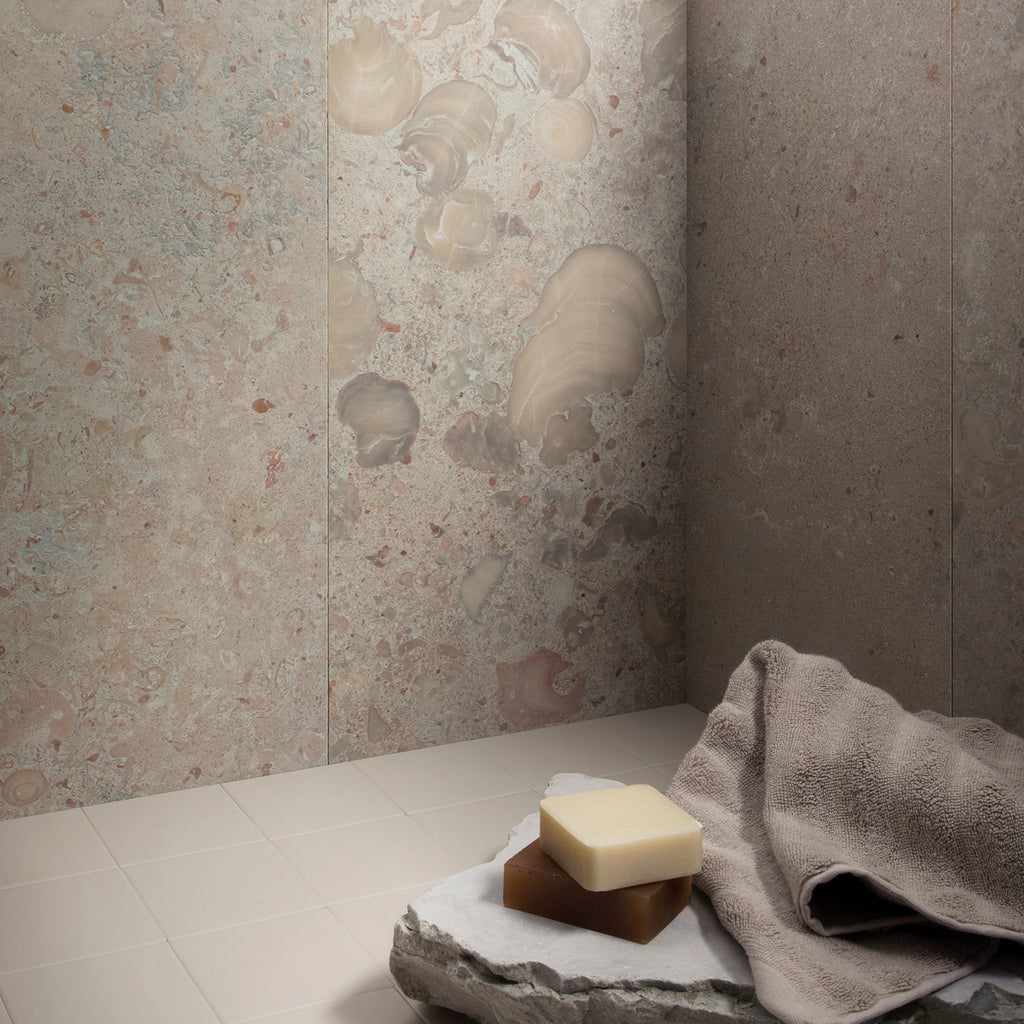 Are you thinking of a natural stone for your bathroom? Limestone is a fantastic material for that. Here are tips, advice and inspiration.
Different treatments give different sense in the bathroom
Our feet and hands are among the most sensitive parts of our body. A material that aesthetically looks the same can be experienced completely different with our hands or feet. The feeling of putting your feet on a warm limestone floor in a bathroom is hard to describe. It simply feels very nice. It is smooth and soft, even though it is a hard stone. It is as comfortable for the eye as for the hand or a small foot. Several of our limestones are available with different treatments - honed, diamond milled, planed or brushed. Everyone gives a different sense. Feel, squeeze and find the right surface treatment for you and your bathroom.
A natural material is not perfect but always beautiful
All materials change over time, it is inevitable. But some change faster than others and how they change is very different. While plastic or ceramic tiles fade and color disappears, the natural stone only becomes more beautiful with age and the marbling and colors are enhanced. We want to strike a blow for genuine natural stone compared to patterned ceramic tiles - it can never be the same. The color and marbling of a genuine limestone is something that can not be copied. Be prepared that the limestone will get patina as time goes on, but it will continue to be beautiful.
Limestone everywhere or "just" on the floor in the bathroom
Dressing a bathroom in limestone on both wall and floor gives a clean and sober impression. The most common is to put same sized tiles, but it is also very nice to lay larger formats on the floor and smaller on the wall. Of course, you can also combine limestone with other materials and surfaces. A beautiful wall color, painted or plastered, in combination with a limestone floor gives a warm and cozy impression. Another nice combination is to choose a tile that captures a color found in the limestone you have chosen. For example, a light beige tile in combination with our limestone Södervange. For Lindanäs a tile in a nice pearl grey color and for a red Öland stone perhaps a light pink-red tile.
Limestone and underfloor heating? It works fine
Think about how long a stone can stay warm after a nice summer day. Stone in general is a material made for underfloor heating, and limestone can advantageous be used both on a floor with waterborne or electrically supplied underfloor heating. The stone stores the heat efficiently and distributes it evenly.
Choose the right grout
An important detail is the grout. We recommend going as close to the color of the limestone as possible. To make the choice of joints easier, we have matched every stone with an appropriate grout color.
Plan for niches in the bathroom
There are a few details that make a big difference for a bathroom in limestone. Creating niches is a stylish and affordable way to achieve the feeling of a luxurious bathroom or toilet. A niche is a recess in the wall of a room. It can be large and hold a shower for example - or smaller to create a shelf or storage space. If you can get a niche with the shower, an opportunity to put the limestone on the floor and wall and then switch to another material outside the shower is created. A niche for a sink infers that you can put a mirror in a stylish way, different types of commodes or why not just a simple limestone countertop with a sink placed on it and a wooden shelf underneath for storage.
Create a moodboard
Before a renovation, it is always good to create a moodboard with different material samples and colors. In addition to stone type, also bring the woods and colors to be used and the metal to be found on mixers, fittings and hooks. Feel free to look at your material samples in fair light. There is a depth in the stone that creates different experiences depending on whether it is natural light that falls or whether it is a warm ceiling lamp. Our limestone Norrvange, for an example, can in some lights be experienced as warm beige and in other lights it is experienced as colder light gray.
A sustainable choice of materials (for real)
Limestone contains no chemicals or additives and the production is very energy efficient compared to ceramics. A natural stone is also always 100 percent recyclable.
Renovating a bathroom, or maybe even building a new house is a big challenge for anyone. Not only are the decisions difficult, they are perhaps the biggest investment of our lives. You want to choose the right material and a material that will last a long time. With natural stone, you get a material that lasts, over time, in appearance and feel. Durable in every way.
How to take care of your limestone
Four things to keep in mind:
1. Use an adhesive and grout adapted for natural stone when installing. We recommend Ardex X32 and Ardex G10.
2. Avoid taping directly on the stone. Tape can leave marks that are difficult to remove.
3. When the floor has been joined, clean the surface with Fila PS87 deep cleaning, let the stone dry and then seal with MP90 Eco Xtreme. The sealant makes it easier to clean the stone and it also protects the stone against oil and make-up that can otherwise cause stains.
4. Rinse the shower area to eliminate soap and shampoo residue each time you have showered (to avoid damage to the floor drain). Use Fila Cleaner when cleaning, it is gentle but very effective.
We hope this article has made you a little wiser in your choice of material. And inspired as well. Good luck with your bathroom!
Here you can order samples of our limestone.
Publicerad
choosing a selection results in a full page refresh