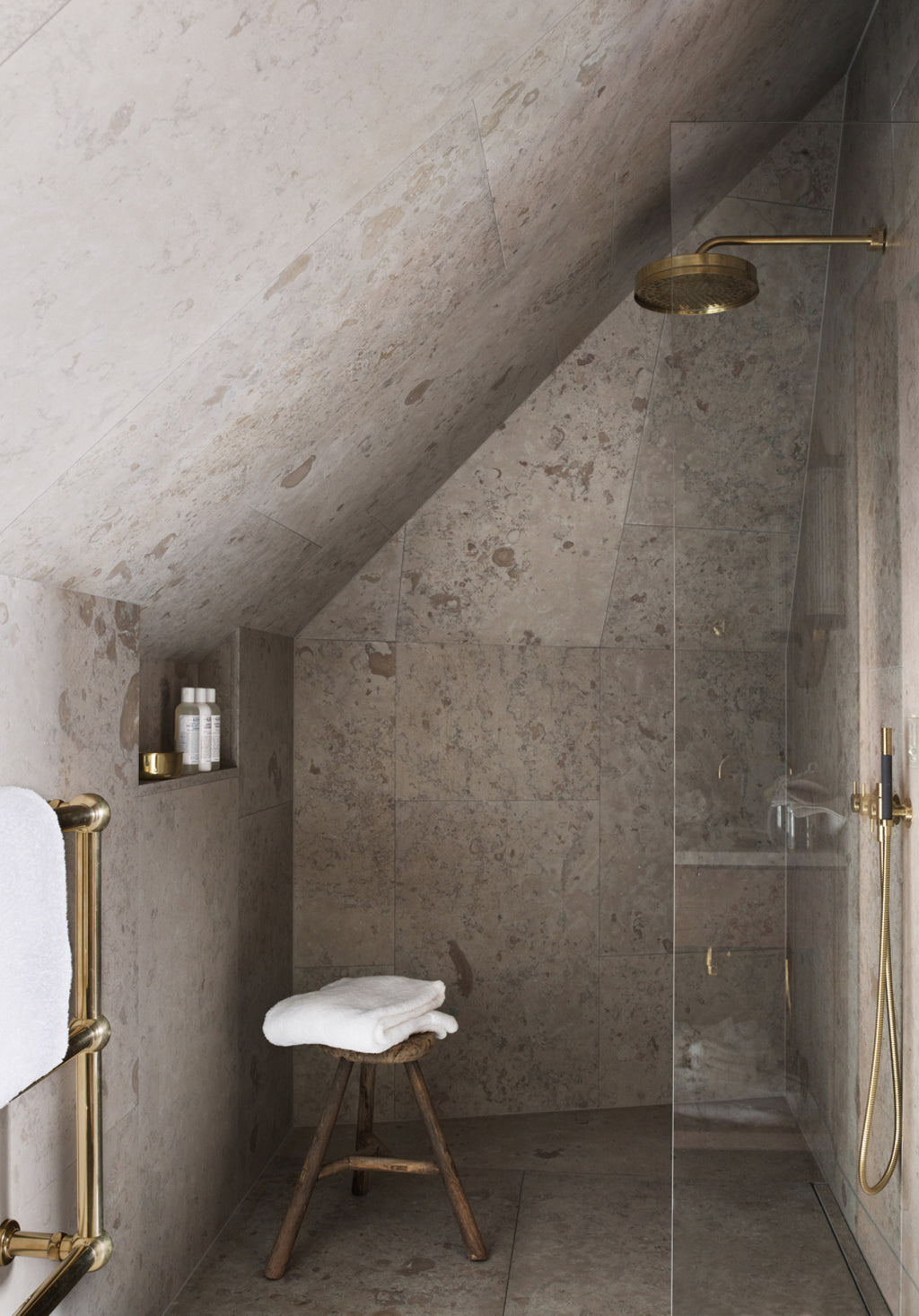 Interior
Norrvange limestone
Publicerad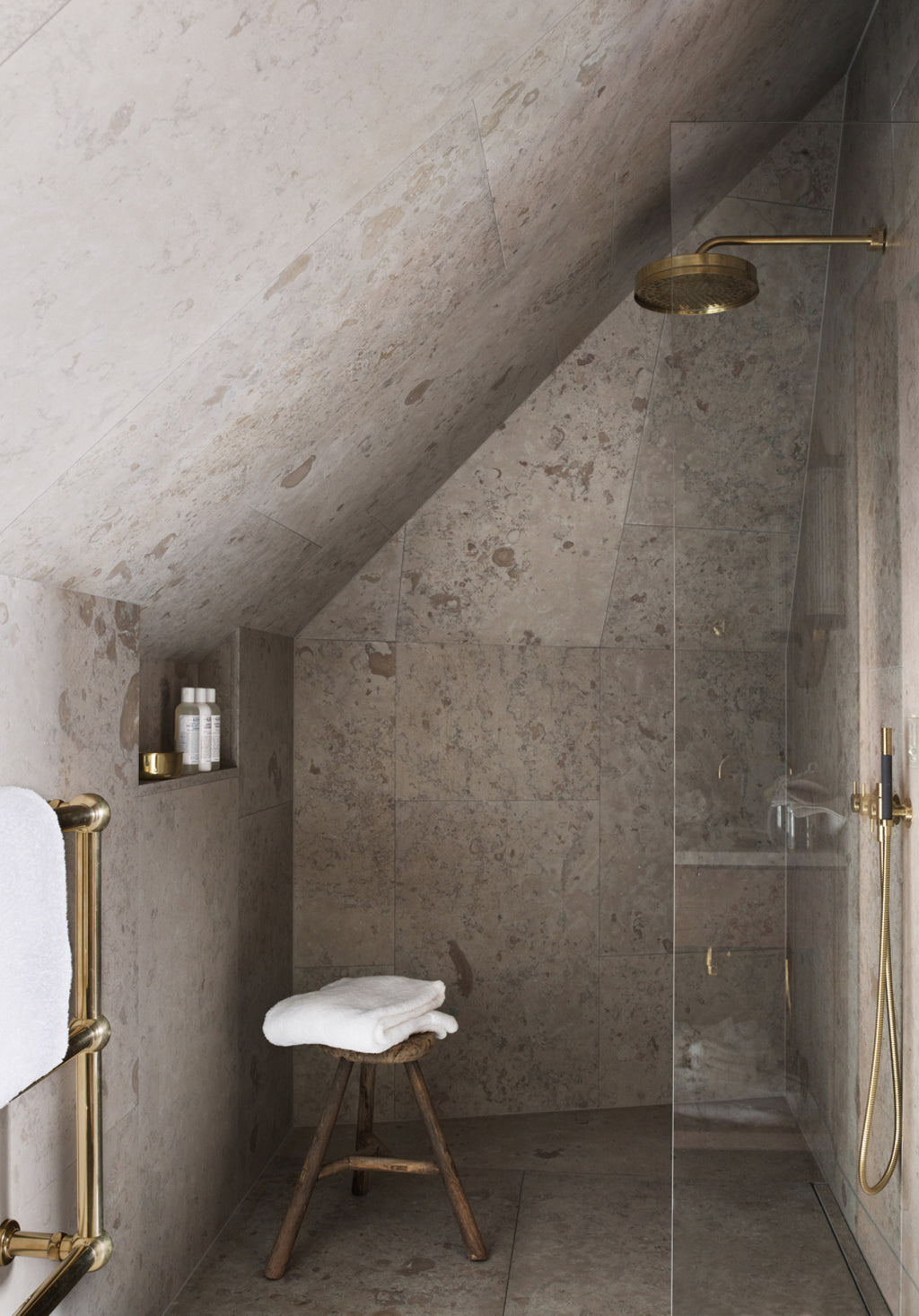 Rocks and cliffs are like photonegatives that capture periods in the earth's evolution and that can be evoked several million years later. The Gotland limestone reveals that Sweden was close to the equator 400 million years ago. Gotland was then a tropical island that lay in a sea with coral reefs and many algae, mussels, sea lilies and other animal species. These species are now found as fossils in our limestone floor and wall tiles!
According to the history Norrvange was quarried as building stone as early as in the ninth century, but it was only later, during the Hanseatic era, that Gotland gained a greater role in the stone trade. This is because Gotland was a geographically suitable trading point. Since 1954, the stone has been quarried and refined at the local family company Slite Stenhuggeri, which is still the only producer of genuine Norrvange. Unfortunately, today there are several pirate copies in granite ceramics with similar names and appearance, but nothing can be compared to the real material. The limestone Norrvange is well established and popular in both Sweden and Europe for its warm bright colors. The stone is a cultural heritage that with its colors, fossils and plants tells us a story about the nature of Sweden and Gotland 400 million years ago.
To decorate with Norrvange
You can do a lot with a durable material in light and warm tones. Norrvange is usually seen on floors and walls, but the stone is also frequently used as a worktop and window sill. Whether you strive for a rustic feel or a modern impression, the stone fits perfectly. Its shade and structure create a warm feeling wherever you put it and it is comfortable to walk on.
For those of you who plan to lay Norrvange on the floor, there are several interior design aspects to consider. Initially, the format and its direction affect the experience of the room. Square tiles in, for example, 30x30 cm can feel more modern, while falling lengths often become more rustic. You can also think about the direction of the stone slabs. An alternative is to lay the falling lengths so that they follow the direction of the room, then the room is perceived as long and narrow. If you instead lay the tiles across, the ceiling height will be perceived as higher. If you want to reinforce a movement or walking direction, such as in a hallway, you can advantageously choose to lay the tiles in the direction of the room. If you instead lay the stone in a room where you are just, it can be nice to lay the tiles across.
When laying the stone, there are also many choices when it comes to color thinking. Decorating with a monochromatic color scheme, that is, tone-on-tone with the stone's base color, creates symbiosis in the room that gives a calm and harmonious feeling. Stony Ground No.211 or School House White No.291 from Farrow Ball are neutral colors that go tone and tone with Norrvange. If you want to match the stone with tiles, Grynna White from Höganäs fits well.
If you are looking for more impression and life in the room, you can choose to break off with accent colors that contrast with the stone. A nice such combination is, for example, to use grain blue or red textiles, objects or furniture in the room. Farrow & Ball's Drawing Room Blue No.253 contrasts nicely with Norrvange's nuance and structure.
To combine Norrvange with other natural materials such as oak or walnut wood is fantastic! The oak's light nature color in combination with Norrvange's nuance creates a Scandinavian feeling. If you strive for a more exclusive and lively impression, walnut wood is excellent. Its dark brown tone and veining do very well together with Norrvange's mild sand gray color and structure.
Publicerad
choosing a selection results in a full page refresh