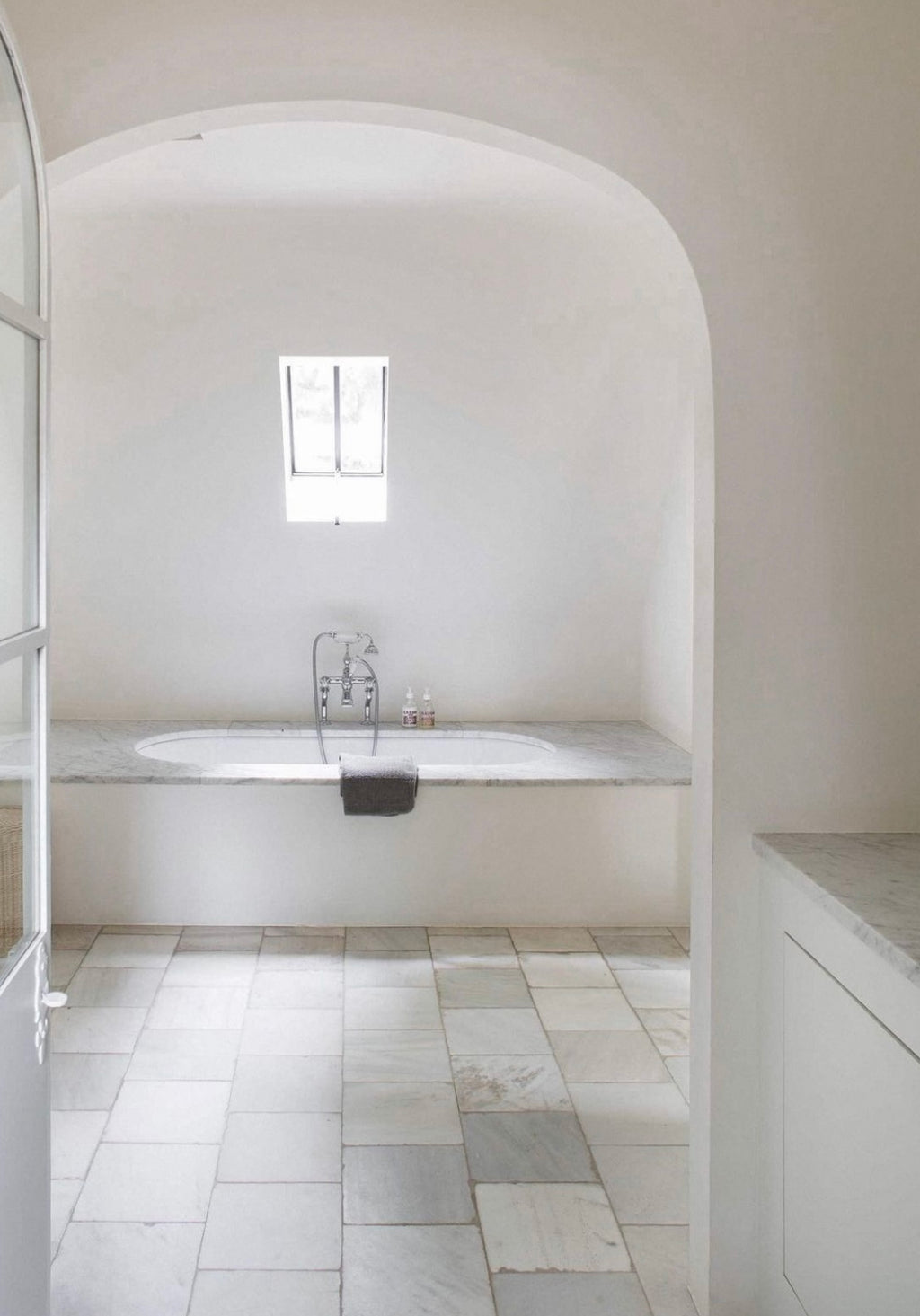 Guide
Combining marble and limestone
Publicerad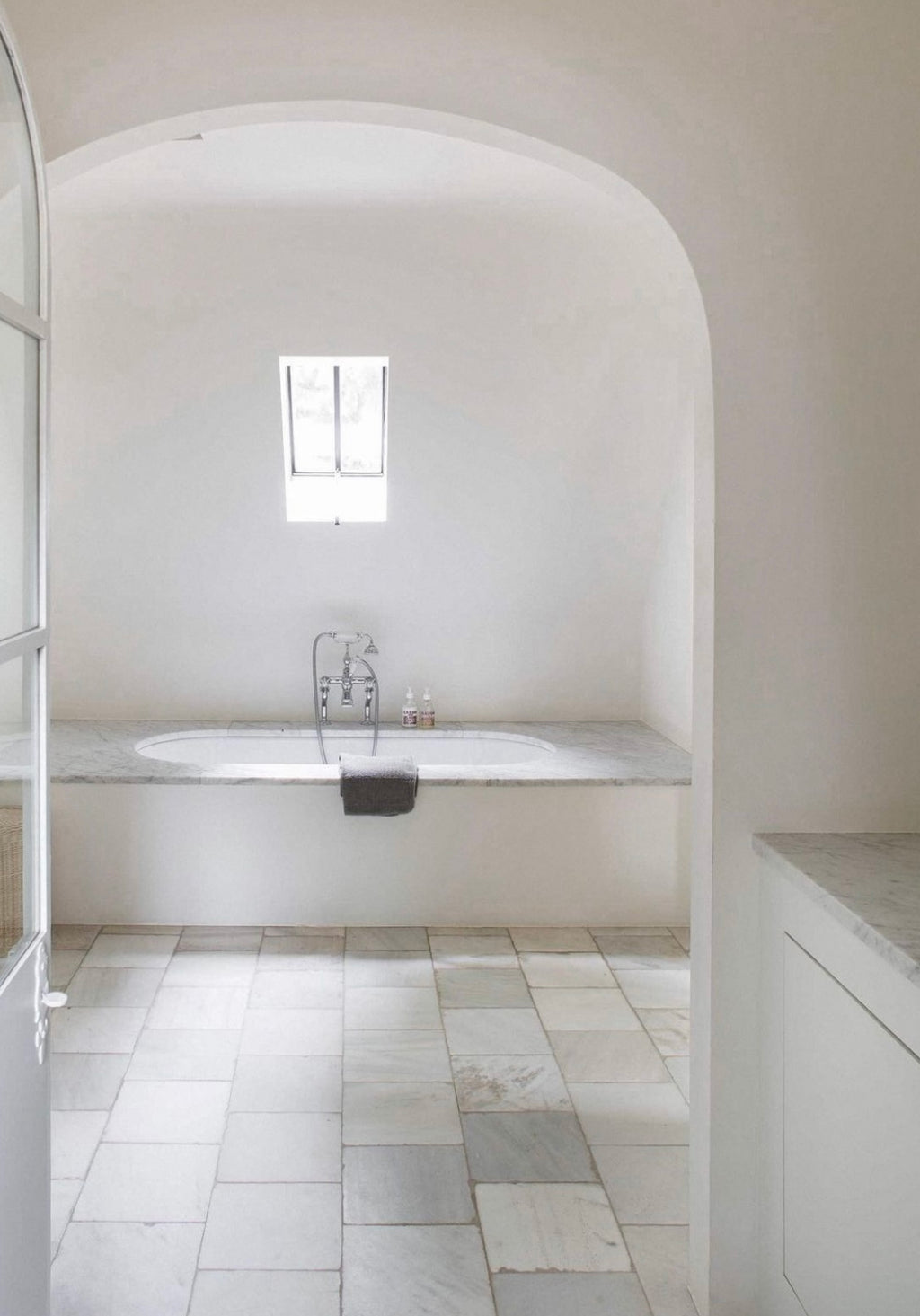 Is the choice between marble and limestone? Maybe it is time to choose both. In this article we explain how to think about the combination of different types of stone.
A more exciting design and the best of both worlds
Mixing marble with limestone is usually something of a forbidden thought for many who are on the threshold of a renovation.There is an established idea that different kinds of natural stone do not work together and that it does not work well when they are mixed. Of course, both the limestone and the marble have their advantages and are wonderful in their own way. And of course they differ in quality, workmanship, price and durability. But instead of pitting them against each other, combine them and get the best of both worlds.
"I am often asked what type of stone should I choose for my bathroom, should I choose limestone or marble? When I then answer why not choose both, I notice that many are astonished" Rebecka Haymoz, interior architect. "To some extent I can understand it: it is wonderful to step into a bathroom only dressed in beautiful limestone, or that glitters of freshly polished marble from floor to ceiling. In many cases this is more than enough. But unfortunately this restriction means that one limits, not only your own ideas but also the possibilities of a more interesting design, function and experience."
Use the different structures of limestone and marble
Limestone and marble both have different structures. The limestone is slightly more rustic and gives a more coarser feeling than the marble, which is often perceived as a little more glossy and smooth. These contrasting surfaces can create incredibly beautiful results when put together in a harmonious way. A backsplash in brushed Lindanäs limestone above a sink in Bianco Carrara marble together with a tiled floor in honed Lindanäs gives a fantastic effect and the different material structures add depth and space to the bathroom.
Another option that we like is to use a brushed Alevik limestone in the shower, it gives a romantic impression reminiscent of ancient Greece, and then use Nero Marquina or Kolmårdsmarmor for the sink.
Combining limestone and marble does not only in apply bathrooms, also in the kitchen this method can be applied. A wonderfully honed Alevik limestone floor in falling lengths with a large Ruivina marble top as a kitchen counter is a fantastic combination. Or, let a darker limestone like honed Lindanäs limestone cover the floor in the dining room where you sit and eat at Saarinen's Tulip table in Bianco Carrara marble.

"It can be incredibly harmonious to break with two different types of natural stone"
"If you are afraid that the different stones will compete with each other, or that one stone will take on more than the other, even though they may both cost the same amount - then instead think more about the final design and the aesthetic relationship between them", Rebecka Haymoz. "It can be incredibly harmonious to break with two different types of natural stone and the combination can actually increase rather than decrease the wow-factor in the room. The great thing about good stone is that it takes up just as much space as you give it."
Design based on the properties of the stone
Another aspect that obviously also comes into play is that limestone and marble differ in terms of the thickness in which they can be made in a longer format. Do you want a longer slab but not go up in thickness, it might be advantageous to use marble. For an example, if you want to tile the bathroom floor but want a long chest of drawers with recessed sink in a thin top plate, it might be better to choose marble for the sink.
It does not matter if the style is modern, classic or rustic - to mix natural stone works regardless. The right stone, the right mix, namely color and surface treatment on each stone, in the right place will be a good combination. And the combinations are timeless.
Publicerad
choosing a selection results in a full page refresh